SerNet is celebrating its 25th anniversary this year. It's the people in particular who make the Göttingen IT company strong - and very nice.
This text first appeared in the summer 2022 issue of Charakter.
SerNet stands for the many people whose lives have crossed paths in a quarter of a century of company history. There are, of course, the founders Volker Lendecke, Dr. Johannes Loxen and Lutz Preßler. But above all, there are their colleagues such as Manuela Bachmeier, Reinhild Jung and Oliver Seufer, who shaped and continue to shape SerNet for a long time in leading positions.
Manuela Bachmeier - still known to many under her name Niesmann - has been with the company for an impressive 19 years. She joined the still young team in 2000 by coincidence. In the depths of winter, with application documents for another company under her arm, she met Johannes Loxen at the snow-covered mailbox of the Medienhaus. A brief conversation and some time to think things over later, she took over administration at SerNet, expanded training management, accounting and marketing, and networked with the Junior Chamber. The first trade fair with an own SerNet appearance was: "The Linuxtag in Karlsruhe. I was amazed by this Linux world. Open source was still rather a marginal topic at that time." She designed the first event series of her own with sambaXP starting in 2002: a conference for an international software community that took place for the 21st time in June 2022. "There was a lot of momentum in the first SerNet years," Bachmeier looks back: for example, the spin-offs of vokativ GmbH and emlix GmbH or new locations in Berlin, among others. "Together we developed ideas, accompanied by the spirit: You fancy the project? Then push it forward! There were always new challenges." In 2009, she went not only on parental leave but also privately to Finland. From there, she remained loyal to the company - and SerNet to her: "Despite the distance, I was given opportunities in Human Resources." It wasn't until 2019 that she also decided to take on an occupational challenge with an employer at her new home in Nuremberg - "with SerNet deep in my heart."
His enthusiasm for Linux guided Oliver Seufer to SerNet in 2001, after he had completed an apprenticeship as a communications electronics technician at the GWDG. His first tasks as a network administrator reflect not only the company's history, but also the early phase of administrative digitization: he looked after the web server of the city of Göttingen. After a year, he switched to the core business and worked his way into configuring the firewalls distributed by SerNet. He remembers one curiosity in particular from those early days: "We used to actually send updates to the customer via hard drive." Seufer also continued to develop within the company and has been technical manager since 2017.
SerNet grew steadily, and with it all the administrative work. It was during this time that Reinhild Jung made a proactive application, starting part-time in 2002. She took on more and more tasks and thus continuously more responsibility: In 2009, she received power of procuration and since then took over the commercial management. She has consistently developed her core area accounting: "In these 20 years, we have arrived at fully automated, digital accounting. The last two years in particular have been catalysts once again."
Jung finally took over the joint SerNet management with Loxen at the beginning of 2019.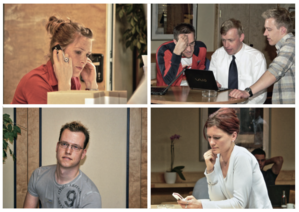 Manuela Bachmeier, Reinhild Jung and Oliver Seufer attribute their long-standing ties to the company in part to its special corporate culture. Jung: "The open interaction among colleagues is remarkable. Everyone looks out for each other - a healthy working atmosphere across departments and locations." Bachmeier continues, "Family friendliness has always been a priority at SerNet." She also emphasizes clever personnel development as one of SerNet's core characteristics. This continues in everyday life in flat hierarchies as well as further training opportunities in all directions, everyone confirms. Seufer emphasizes that it's not just personal responsibility that plays a role here, but also the opportunity to work out focal points yourself: "Colleagues are passionate about their topics." Jung also talks about the good relationship with customers that distinguishes the company: "We play fair, sell solutions that we stand behind, and give the assurance: SerNet cares."
The next 25 years are coming up. Jung and Loxen want to continue to develop SerNet steadily. The ideals of the first 25 years are to be preserved. Jung: "We don't want to lose our roots, even if we have to constantly adapt, of course."