All industries, anytime, anywhere
IT systems for industry
SerNet has experience with industrial companies in almost all industries. Secure IT infrastructures are set up according to the state of the art. Additional applicable standards, such as TISAX for the automotive industry, are taken into account and all systems are set up according to these specifications in close coordination with our customers and also operated for them if desired.
In the following we take up 3 industries in which SerNet has been active since its foundation.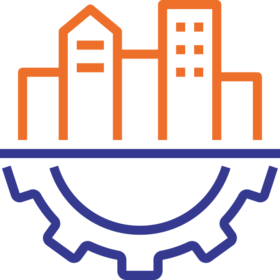 TISAX (Trusted Information Security Assessment Exchange) is a testing and exchange mechanism of test results according to the industry-specific standard VDA-ISA, which is developed in the ENX Association and published by the German Association of the Automotive Industry (VDA).
SerNet can point to years of experience with this standard, both through practical work at a large number of automotive companies for more than 20 years in some cases, and through theory, as we have been offering the TISAX standard in our ISMS tool verinice for more than 10 years in order to also help our customers with auditing according to this standard.

Measurement and Control Technology
Measurement Valley e.V. is an association initiated in 1998 by Stefan Ferneding and Christian Bebek in Göttingen, which is currently home to all well-known companies in the region that are somehow involved in measurement and control technology.
A large number of these companies have sought advice from SerNet on issues relating to their IT infrastructure, including: Accurion, Adolf THIES, DBD Plasma, DLR, dikon, Georg-August University, HAWK, Kappa Optronics, Lambrecht meteo, Lavision, LisaLaser, Mahr, Metrolux, Park Systems, Qioptiq, Sartorius AG and Visicon.
Many of these companies are spin-offs from Göttingen's diverse research landscape, in which SerNet also has its roots through its founders and many colleagues.

South Lower Saxony has a focus on packaging, led primarily by the THIMM Group, a family-owned company that is now managed by the fourth generation. Behind this are a large number of companies that, like other industries, have founded their own association to represent their interests in the form of the packaging cluster.
This branch of industry is characterized by high innovation, fast product cycles, distributed work at several locations (at THIMM distributed worldwide). SerNet therefore also provides special support in the areas of VPN networking and Firewalls and, with a strong move into the Cloud, also with hybrid technologies, which are absolutely necessary for the secure expansion of infrastructure.