Domains and Certificates
Domain Services
The most important ingredients for a functioning web service are the domain name for naming the online service and the SSL certificate for the encrypted connection to the browser. Both can be obtained from SerNet.
In addition, there is the web server. We ourselves are neither web hoster nor web agency. However, we have been working with interesting and efficient partners for many years, and we are happy to recommend them to you.
But why reserve domains with SerNet then? We provide the domain and operate the DNS server for you - thus we fulfill an important security function! Because neither do you want to lose the domain from your possession "by mistake" or by an attack, nor do you want to risk a disruption in the availability of web servers, mail servers, databases and other services. Very few web hosters or web agencies have a strong focus on security. Some are concerned with performance and low prices - others with site design and function. At SerNet, on the other hand, we think first about our customers' protection and security on the Internet.
SerNet has a single web offering in its portfolio with Nextcloud: the operation of a private cloud system to store data for access from the web via a variety of possible services. See the further descriptions in the box below right.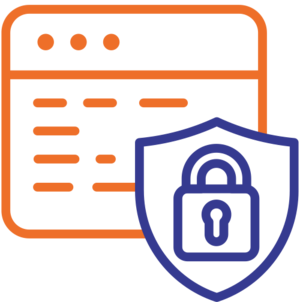 Since 2001, SerNet has been a member of DENIC eG and thus has direct access to the reservation system for domains under .DE, the most important German top-level domain (TLD). SerNet also offers reservations for all other top-level domains - from large and widespread TLDs like .COM or .ORG to small or new TLDs like .PLUS, .NOW or .FORUM.
SerNet takes care of obtaining domains blocked by domain grabbers as discreetly and inexpensively as possible. For all domains under management, SerNet operates the DNS servers, managing the references for web and mail servers, firewalls, cloud systems, and security and encryption features.

For the operation of the secure HTTP protocol "HTTPS", web servers must be equipped with SSL certificates. Whereas in the past[TM] this required in all cases the purchase of paid certificates from commercial providers, today this is only necessary in a small number of cases - especially for those systems that do not have direct access to the Internet, or whose multi-domain certificate requires a very special configuration. SerNet purchases these certificates from providers such as GlobalSign and takes care of professional installation on the customer systems.
In most cases, the more modern Let's Enrypt system is sufficient. Here, all that needs to be done on the web server is to install a service that automatically recreates the certificates over and over again at intervals of a few weeks, thus significantly increasing the security and resilience of the systems. SerNet also installs monitoring to continuously check the functioning of the automatic certificate exchange and to be able to intervene in case of errors. So we don't sell you the certificate - but the installation and ongoing monitoring as a service.